Recently, I was sitting at the computer looking over our finances wondering what we could improve.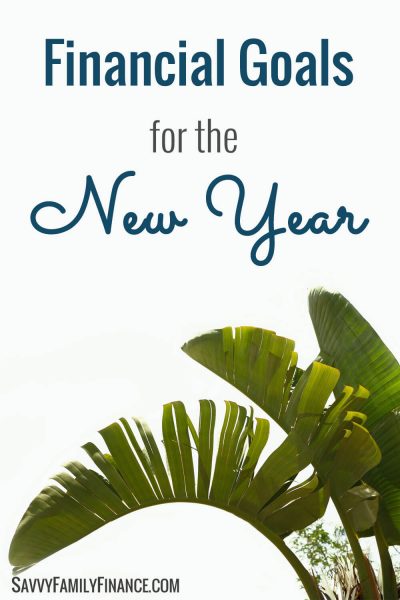 Maybe it is New Year's motivating me. Perhaps spring does it for you, or your birthday. Now seems to be a good time to take stock of what has happened this past year and set some financial goals for the new year.
While this list may not seem long or the goals appear too simple, I like goals or new habits to be attainable. And we can always add more later.
Cut back on food expenses
Looking back over this past year, I can see our food expenses are a bit higher than I would like. If we include food from the grocery store, school lunches, alcohol and dining out, we average about $768 per month for a family of four with a tween and a teen.
Checking the USDA chart for average grocery spending, a family like ours on a low-cost plan spends $927.90 and on a thrifty plan would spend $700.30. There are many of you out there that manage to spend less and many that spend more. Thus, the amounts above are average.
We live in a larger urban area where farmer market prices usually are not any better than the grocery store, so we need to rely on finding savings in other ways. Some things I have made use of in the past include apps such as Ibotta, store coupons via store apps, and buying select items in bulk. We also go to a U-pick blueberry farm in early summer for spray-free blueberries at a price that is hard to beat.
The amount we spend dining out increases during the summer months for us. That is most likely a combination of vacation dining and getting take out when the weather is unbearably hot and the thought of cooking brings about a feeling of dread.
This next year I would like to focus more on meal planning and trying a couple different stores. To complicate matters more, I am going to throw in some diet changes as well so ideally meat consumption will go down and we'll have more vegetables and whole foods on hand.
This process will by no means be scientific as more than one variable will change at a time. Meal planning should help prevent splurges and reduce food waste. We also tried freezer meals recently and it made getting meals pulled together in the evenings much easier. But, the meals were meat-centered, so the initial costs of stocking up on ingredients did make our grocery bill spike the first month. Maybe there are some good vegetarian or vegan freezer meal plans that are quick to prepare? The trick there will be convincing children that love hamburgers, orange chicken, and nothing spicy to give new foods a try. Wish us luck.
So, what is our new food spending goal? It is hard to say given diet changes and growing kids, but I would be very happy if we could get down to $650 per month on average AND improve our diet.
More income
It is no secret we, like many people, have a mortgage. Property taxes are also going up each year by a significant amount. We also took out a HELOC to do some work on the house the other year. While we are making extra principal payments, having additional income to throw at these loans would be nice. Who wouldn't want to get rid of all their debts faster?
One of our financial goals for the new year is to bring in some extra income so we can get rid of these payments sooner than later. We also have other things we want to fix up or replace. There is the car that is almost 21 years old and is showing its age and the carpet that looks like it is that old as well. If I am going to be commuting to a job, we'll want to replace that car and replacing the carpet would be so nice. There are also some other house projects that should be taken care of.
Other income options besides a full-time job include trying various side hustles. Those, of course, I would be reporting results for all of you to see which ones are worth a try.
Tweak investments
About once a year we look over our investments and rebalance and make adjustments as needed. In general, we invest in low-cost index funds in our retirement accounts so there isn't much to do here other than make sure things stay on track.
I am looking forward to seeing how we do on our food spending and potentially new income.
Have you set any financial goals for the new year?