Inside: Do you struggle to save money because there is never enough? Find out steps to take to manage your money and create a little wiggle room so you can save.
Are you living paycheck to paycheck? You have money coming in but it's gone before you know it, so how in the world can you start saving money? If you want to pull ahead and have money ready for emergencies or investing or a vacation, you'll need to learn to save.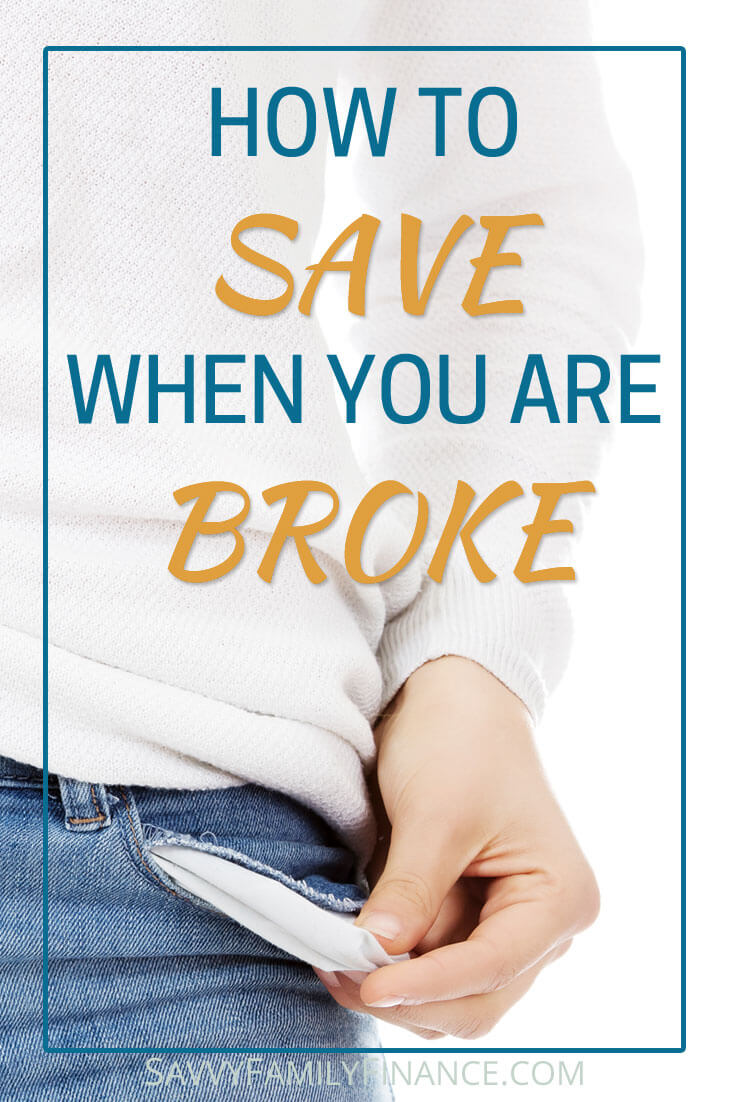 If you don't already have a budget set up, and you have no savings, now is the time to make one. Really. It will help you identify where cuts can be made and where your savings are.
Now to get into how in the world do you actually save when you are broke.
Open an online savings account
You want to save, so you need somewhere to actually put the money you are saving. It will not work to include savings with your regular account as you will inevitably spend it. Easily accessible equals easily spent.
With the money setup in an online savings account, you are less likely to access the money. Online accounts also have the advantage of usually being free of maintenance fees and some even have no minimum balance requirements. An online bank such as highly rated Ally would be a good choice. Another favorite is Capital One 360.
If you would rather skip online accounts, then check your local credit unions and make sure the account you open has no maintenance fees and no minimum balance. Remember, you are trying to save money, not pay more.
Get a grip on the money going out
The next step is to get a handle on the money flowing out of your accounts.
Lower your bills
First, take a look at your larger bills. Are you a good driver and ticket and accident free for several years? Chances are you can find lower auto insurance rates. Check to see what you are currently paying and have your current policy handy for reference. Then, start calling around to various companies and see what they have to offer.
Remember to compare apples to apples. You don't want one company quoting you a rate for 10k miles/year and a $1500 deductible and another quoting you rates for 8k miles and $500 deductible.
Next, check your phone or internet plans. Are you paying for too much? Could you use a less expensive provider or a different plan? Check around and make a few phone calls. It could save you enough to jump start your savings.
Go cheaper
Check your cell phone usage. Do you need unlimited text and data, or the way you use your phone, could you use less text/data? Is there a less expensive plan or carrier you could use?
When you shop, try the lower priced or store brands. When you need new clothes, check out the thrift and consignment stores. You might be surprised at what you can find. I've gotten brand-spanking new clothes there for less than $1 – they still had the original price tag attached. Also check out stores like Ross and TJ Maxx. I'm not saying to go shopping for clothes now. But if you *need* a new shirt or jeans or skirt, try these other stores and you may be pleasantly surprised.
Does your bank charge monthly fees? Switch to one that doesn't. There is absolutely no good reason to stick with a bank that charges you fees just for holding on to your money and has hard-to-find ATMs. And you know what we found? When we ditched our bank and moved to an online credit union, surcharge free ATMs were suddenly everywhere.
Cut back
You can probably save quite a bit by cutting cable and if you regularly stop in at the coffee shop for a latte each morning before work? Well, see about eliminating those trips or at least cutting back to just Monday morning. Seriously, over $4 for a small coffee these days? You can make your own at home for pennies. You don't need to completely deprive yourself, just think of more affordable ways to enjoy yourself.
The savings can also add up by packing a lunch (probably $3 or less of food) rather than spending $10-20 each day to eat out with your coworkers. Do you really need to blow $100 on drinks and cab fare with your friends each week? Try cooking at home more and eating out less. It is healthier for you and your wallet.
Save the savings
All of these savings? Don't forget to put the amount you are saving INTO savings. Yes, you will probably need to follow a budget. But if you don't actually actually put that money into savings, it will get blown on pizza or something else just as useful.
Try and bring extra in
Now you've got a place to squirrel away your savings, you've given yourself and your wallet some breathing room, so now it's time to try and bring in some extra money. Set a goal of at least $20 a month and go from there. There are a lot of ways to do this.
Sell
Selling some of your extra stuff will bring in cash and you can enjoy having less clutter. Do you have old phones or tablets, old clothes, books, or sporting goods that you don't use anymore? Those can all bring in some cash to add to your savings.
Work
You can also sign up at Swagbucks and earn money by taking surveys or watching videos. There are other survey companies that will pay you a few dollars for each survey you take. You could also offer to pet sit, house sit, or do chores for other people.
Auto-save
This may be the easiest way to start saving. Go to payroll and have them auto deposit a set amount from your paycheck to that new savings account. Even if it's only $5, that's five dollars that wasn't saved before.
Whew! It may seem like a lot of work, but take it in small steps. After a few months you'll see your savings start to grow and you'll eventually get to $1000 or more. Remember, any saving is a step in the right direction. It is possible to find ways to save even when it seems you are broke.
What ways do you manage to save when money is tight?