Do you remember the smell of Thanksgiving dinner being prepared?
I love Thanksgiving, and other big 'food' holidays. The smell of the turkey roasting and thought of snacks to munch on while waiting for the big meal is enough to make me salivate and gain 5 pounds before even taking a bite.
Unlike some people, I actually don't mind making the main dish. The sides though, that is what gets me. Trying to come up with various side dishes to round out the meal that are tasty and not always the fallback of mashed potatoes. Don't get me wrong, we love our mashed potatoes, but I like a bit of variety.
When it comes to putting together vegetables and other dishes, I like to find ones that are not only easy to make, but also budget-friendly and crowd-pleasers.
So, to help both you and me, I've pulled together a roundup of 30 easy, delicious holiday side dishes.
30 Budget-Friendly Holiday Side Dishes
1. Cranberry and Dried Cherry Sauce from Taste and See
Oh. My. This one looks delish. Not only that, it only takes minutes to prepare and you can do it the night before.
2. Yorkshire Pudding from Tikkido
I'll admit, I've never had Yorkshire pudding before. But after reading the directions and ingredients, it is on my to-make list. So easy, inexpensive and sounds absolutely tasty.
3. Jiffy Cornbread Casserole from Cincy Shopper
This gooey cornbread, or cornbread pudding, is an easy and tasty side dish for special dinners.
4. Super Simple Scalloped Potatoes from Hearth and Vine
These potatoes are really easy to pull together. This rich side is a great compliment to many meals without being too fussy. It has just three ingredients (plus black pepper) to keep it as simple as possible.
5. Slow Cooker Sweet Potato Casserole by Baking Beauty
If you want to make a traditional sweet potato casserole with marshmallows and all, this is a great recipe to make use of the slow cooker while the entree is in the oven.
6. Healthy Sweet Potatoes – No Marshmallows Needed by Pink Fortitude
Are you like me and prefer your sweet potatoes marshmallow-free? Whether you prefer savory over sweet or are looking to save those calories for dessert, this is a yummy option that will have your guests asking for more.
7. Spicy Honey Roasted Brussels Sprouts from Dash of Jazz
This recipe provides a sweet little kick to your brussels sprouts. Not only that, it is quick and inexpensive to make.
8. Balsamic Roasted Asparagus from Moneywise Moms
This is an absolutely delicious way to prepare asparagus. It is easy to pull together and the flavors will impress.
9. Pan-Fried Butternut Squash with Garam Masala from Mom Foodie
If you are looking to move beyond sweet potatoes, this butternut squash recipe is a tasty alternative that you'll come back to for more.
10. Fast and Easy Creamed Spinach from Savory Tooth
Looking for a low-carb, keto-friendly side dish? This creamy, savory dish fits the bill and can be ready in just 15 minutes.
11. Pumpkin Cranberry Quinoa Salad from Rhian's Recipes
If you want something different from your everyday salad, this bright, beautiful salad will wow your guests.
12. Vegan Potato Dauphinoise Gratin from Rhian's Recipes
This creamy potato dish is vegan friendly with a rich, creamy flavor that your guests will love.
13. Skillet Roasted Broccoli and Cauliflower from A Sprinkling of Cayenne
Roasting vegetables brings out a sweet flavor in them you just can't get any other way. These veggies will be gobbled up in no time.
Ok, this sounds so intriguing! Not only does it not use the oven (a plus for busy holiday dinner prep), but the combination of ingredients looks like the perfect balance of sweetness while maintaining a savory edge.
15. Creamy Carrot and Rutabaga Mash from Recipe This
This carrot and rutabaga mash sounds both yummy and frugal.
16. Garlicky Green Beans & Mushrooms from Dash of Jazz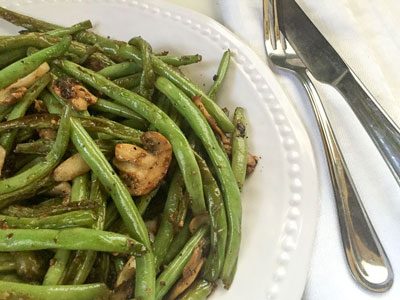 These green beans are savory and yum. This is a great side for any dinner, holiday or not.
This paleo friendly side combines jicama with green beans for a tasty veg combo.
18. Maple Roasted Delicata Squash Rings from Mom Foodie
This side dish balances sweet and savory while being quick to cook and easy on the pocketbook.
19. Rice with Apples and Craisins from Baking With Mom
This simple side is easy to pull together and uses ingredients you likely have around the house.
20. Roasted Rosemary Carrots with Honey Glaze from Foodal
Have some extra carrots hanging out in the crisper? This side looks great and is easy to make.
This souffle will impress guests and is great for potlucks, too!
If you are in the mood for sweeter potatoes without marshmallows, this recipe will hit the spot.
23. Easy Oven Roasted Baby Potatoes at Cook Eat Go
If you still want spuds, but are looking for something a bit fancier than mashed potatoes, these roasted baby potatoes fit the bill and are easy to make.
24. Dairy Free Scalloped Sweet Potatoes with Candied Pecans from The Soccer Mom Blog
This is a great option for vegans or those with dairy allergies.
25. Slow Cooker Cheesy Potatoes from Rock-A-Bye Parents
This hearty side is easy to throw together in the slow cooker while you work on preparing the rest of dinner.
26. Low-Carb Better Than Sweet Potato Casserole by Wholesome Yum
This is a low-carb, sugar-free, paleo friendly sweet potato (but without sweet potatoes) casserole. It has all the yum without all the guilt. Maya accomplishes this feat by using a combination of butternut squash and cauliflower.
Want a side that both kids and adults will love? How about some homemade applesauce? It tastes infinitely better than what you get from the store, is inexpensive, and you can easily make it in advance.
28. Healthy Vegan Brussels Sprouts Hash from The Soccer Mom Blog
This brussels sprouts recipe is sure to garner a few new converts to this veggie!
This is a yummy side dish you and make in your slow cooker. Great for holidays and potlucks, you probably won't have any leftovers.
30. Cheesy Garlic Sweet Potato Smash from Mommy Is A Wino
Want sweet potatoes without all the marshmallow sweetness? These are a perfectly easy and tasty side for any occasion.
What are your favorite side dishes?